THE EPIDEMIC of extreme politeness in Japan is spreading. Armed robbers are now acting super-nice, to the detriment of their professional standards. Consider two recent cases, forwarded to me by a reader called Hiroto.
1) A man with a knife walked into a bank in Fukuoka Prefecture, and gently asked the teller to hand over all the money. "Certainly, sir," the teller replied. "Please take a seat."
The villain sat politely with his knife for ten minutes until police arrived and carted him off. I'm sure all stages of the raid and arrest happened quietly, with voices not rising above a murmur, and everyone bowing to each other the whole time and saying things like: "Our bank is honored to be the site of your esteemed robbery attempt."
2) In the town of Noto, a woman walked into a store with a bread knife and asked the cashier to hand over the cash. The cashier politely declined. The woman then put the knife away and told the cashier that the police should now be summoned. They waited quietly together until cops arrived, Rocketnews24 reported.
The growing level of politeness in Japan is a problem for officers as well as robbers. When villains don't threaten staff or take anything, no one knows what to charge them with. "Being a total wacko" is not a crime, as Michael Jackson proved.
***
PRINCE HARRY'S visit to China was cancelled. British officials worried he might challenge the Premier's daughter to a game of nude billiards, I suppose. The Prince, a working soldier, recently said that modern fighting in Afghanistan was like playing X-Box or Playstation. For this, he was criticized for having a lack of humanity BY THE TALIBAN, a group not exactly known for its humanity. My brain hurts.
(Taliban target practice)
***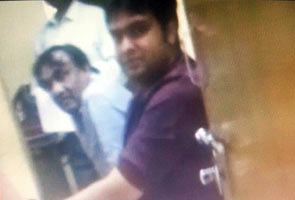 A MAN WAS escorted to his wedding by police officers last week, and returned to his cell after the ceremony. Newly arrested fraud suspect Mohit Jain of Mumbai told cops he couldn't cancel his wedding because he'd invited 2,000 guests, newspapers reported. I'm guessing the priest had to adjust the normal wording, at least to the bride: "Do you take this jailbird to be your lawfully wedding jailbird, to have and to hold, assuming you get him back one day?"
***

I WAS ON the phone trying to direct someone to my office last week when a news item popped up which said that scientists had learned that dung beetles find their way around by USING THE MILKY WAY. Yet I know humans who get lost on the way to the toilet IN THEIR OWN OFFICES. Another screw-up by evolution.
***
THERE WAS A report in the Joongang Ilbo newspaper of Seoul saying that large breasts are considered Very Bad Things in North Korea. Not sure I believe this. What about chubby leader Kim Jong-Un, who surely has notable manboobs?
***
TWO MEN have enrolled on a training course to become hangmen in Colombo, I hear from a reader there, a gentleman known as Big Bubblemaker. He wondered what they actually studied. Knots, like boy scouts, one supposes. For some reason I imagine them practicing spelling games.
***
WHY SMART people hate autocorrect:
You always end up posting sum thong you didn't Nintendo.
***
MEANWHILE IN JAPAN 1….

MEANWHILE IN JAPAN 2…
 
MEANWHILE IN JAPAN 3…

MEANWHILE IN JAPAN 4…

***
Have a great weekend…